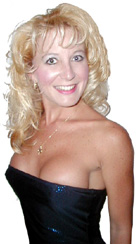 Hello Boat Captains,
IMPORTANT INSTRUCTIONS. PLEASE READ EVERYTHING
PLEASE HELP... RAFT UP TIMES:
We usually have over 35 boats that attend these events!
Remember that organizing an event like this takes a lot of time, planning and organization so with over 35-50 boats expected to arrive, we need your help in following the organized raft up order so that things go smoothly and everyone gets rafted up in the most organized manner for the best socializing flow of traffic making it easy for everyone to walk along the swim platforms from boat to boat as seen in the photos.
Please arrive during your raft up times so we can relax and enjoy the party too instead of always having to stop to help with newly arriving boats that are coming after their designated times.
VERY IMPORTANT: For Complete Details, Click Here To Go To "Wristband Info"
Upon rafting up ALL captains must check in and turn in a liability waiver for each passenger on their boat in order to get a wristband for each passenger. This prevents anyone from suing us if you crash your boat into someone else's boat or if someone drinks too much and trips on someone's lines. Check-In is usually on Barbi's boat or the boat on either side of her boat. If Barbi is not on her boat, it is your responsibility to find the check in boat to get your wristbands. If we cannot read your writing or if you do not fill in all the information completely, then your boat is NOT registered and will be removed from the raft up. This is very important and is not something that can be ignored or forgotten. This is your responsibility to remember, so please don't think we will track you down to remind you. Security simply reviews the registration list and unties the lines to the boats where the captain has not registered or the guests don't have wristbands. For complete details, Go To "Wristband Info"
Pre-Registered Boaters With Reservations Posted On The Bulletin Board

Overnight Boaters
Day Boaters
Over 24'
All Boaters Under 24'
Yes Swim Platform
Saturday & Sunday
10:00 - 12:00
Saturday & Sunday
12:00 - 1:00
10:00 - 2:00
Raft off stern of other boats
No Swim Platform
Saturday & Sunday
12:00 - 1:00
Saturday & Sunday
1:00 - 2:00
10:00 - 2:00
Raft off stern of other boats

To make it simple, follow the ABC's and the 1,2,3's below. Please find your boat category below and make plans to raft up during that time slot and at the proper end of the raft-up. Those without swim platforms that raft up in the wrong place and break the flow of traffic for the raft up, will be removed from the raft up and will need to swim if they want to join us, so PLEASE help us by following the below order of rafting.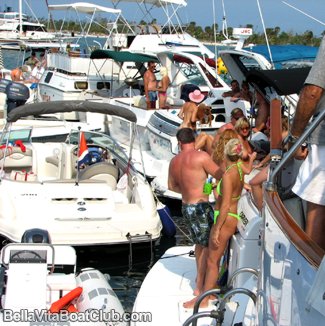 Also...
A few
Eager Beavers
will be going to the party Friday night to get things started early, so when you arrive on Saturday, there will most likely be a couple boats already anchored.
Pre-registered boaters are always welcome
to arrive early and we'll get you rafted as soon as we can, even if it means re-rafting you when other boats arrive to keep boats in the proper order. Below is the order that boats will be rafted up.
#1 - Overnight Boats, (boaters staying overnight) With Swim Platforms:
Large boats with swim platforms will be rafting up between 10:00 - 12:00 PM on Saturday..
Smaller boats with swim platforms will be rafting up between 10:00 - 12:00 PM.
#2 - Overnight Boats Without swim platforms: Those planning on staying overnight Without swim platforms (usually sailboaters) will be rafted between 12:00 - 1:00..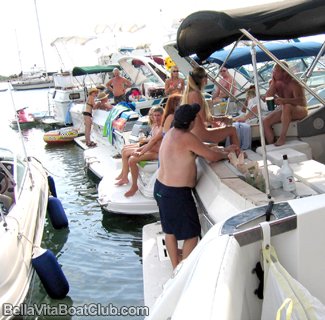 #3 - All Day-Boaters: (Those NOT staying overnight)
All boaters coming for only the day WITH swim platforms will be rafted 12:00 - 1:00.
All boaters coming for only the day WITHOUT swim platforms will be rafted 1:00 - 2:00.
All Small Boats, Run-a-bouts, dinghies, jet skies, wave-runners, bass boats, flats boats, canoes and most boats under 24' will not be in the main raft line-up but instead will be one of two places. 1- Either tied loosely to trail off the back of the swim platforms of those boats that are in the raft-up OR 2- Rafted in a 2nd raft line that leads from the island to the main raft-up. Please be sure to bring fenders to protect the boat you're tied to and the boats around you, and be sure to tie your boat so that the line doesn't cause a tripping hazard for those walking along the swim platforms after a few drinks. Raft Up time is 10:00 - 2:00
A - Be Sure to have your VHF radio on channel # 72 when approaching the raft up to verify you are on the reservation list. Call for, "Barbi Party" on your radio so we can give you instructions in case other boats are in line to raft up too and also because wind conditions and direction might change the raft up, putting the bigger yachts upwind to block the wind for the smaller boats.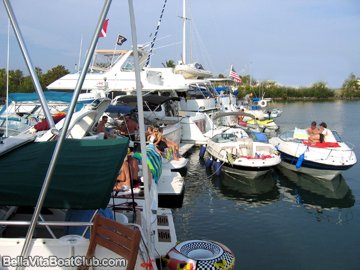 B - Be sure to carefully line up your swim platform
with the boat you're rafting up with.
C - Be sure to use plenty of fenders and squish them tight between the boats and tie your lines very tight to hold the two boats tight and securely together.
D - Be ready to help the next boat joining us to tie off to your boat. Help them get their swim platform lined up perfectly with yours, help them get tied tightly and introduce yourself to your new neighbor!!!
Remember that the last thing we need is 50 boats bumping into each other, but if everyone follows these instructions then things will go very smooth.
Thank you very much for your help in making this another successful swinging raft up party!
Kisses,
Barbie :)
BellaVitaResorts.com
The World's ONLY Clothing Optional Condo-Hotel Resort, currently under construction and offered at preconstruction prices in South Florida.