1. No cameras of any kind: This includes cell phone cameras. If you have a camera, leave it in your car. If you bring it, it will be taken from you and not returned. We've been hosting parties for almost 10 years and we know who does and doesn't want their pictures taken. You don't. If you want your picture taken with someone, ask a couple with a camera to take your picture and email it to you, but whatever you do, don't bring your own camera because you'll lose your camera and be banned from the club.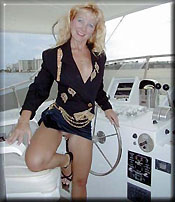 2. Bring Something To Contribute: Keep in mind that the other guys, are bringing girls. You are not. That means you've got some making up to do. You can bring food to share with everyone, drinks to share with everyone, if you have a big yacht then you can host a cocktail hour, or if you have a dingy or other small boat, then you can provide shuttle service transporting other couples without boats from the marina out to the party. But you have to contribute "something" to the party other than just "yourself", otherwise we'll choose another "select" Single Sailor to join us next time, because remember that space is limited.
3. Always Be Ready To Help: You are one of the official "Dock Masters". This usually means that when another boat is joining the group or leaving the group, it is your job to help with the "dockmaster/raftmaster duties. Please don't wait to be asked, volunteer by being ready to catch a line, fend the boats from bumping into each other, positioning fenders, tying lines onto cleats, hoisting anchors, ANYTHING you can do to help. If you have a small boat and we need someone to run an anchor out for us, or make a run to the marina to get more ice for drinks, don't wait to be asked, volunteer to do it. With as many people as these parties attract, there is a lot of trash that gets generated. We respect our beautiful waters that we enjoy so much so ALL trash goes in trash bags which fill up quickly. If you see a boat getting overrun with trash bags and we need you to take a load of bags to shore to the garbage, please don't wait to be asked, volunteer to do it. The more helpful you are, the more appreciative we recognize you to be, so the more welcome you will be to all our future events.
4. NO Freeloading: Don't be a "Gooch The Mooch". Don't show up with just yourself and no food, no drinks and no accommodations expecting to mooch off the party having all the couples feed you while you drink everyone's alcohol and then crash on someone's boat until morning so you can start your mooching all over again finding out who you're going to sponge breakfast off of. See rule #2 above.
5. Single Sailor Approvals: To be invited, all Single Sailors must email Barbi, sending her the following information:
a) An up close, clear photo of yourself.
b) A detailed description of your boat and your boat's name.
c) Your complete contact information including phone number & email.
d) Confirmation that you have read & will follow all the Single Sailor rules.
6. Your Gang Of Friends: If you email Barbi or one of the other couples, and she invites you to the party, that doesn't mean you can bring a gang of your friends. Each Single Sailor MUST be approved individually. That means if you want to bring your friends, then they must provide all the information in #5 above, and they must tell us what boat they will be riding on if it is your boat. When you radio us, you will be asked the name of your boat and the name of all its passengers and if your manifest doesn't match up with our pre-approved list, then you will not be permitted to raft up with us, so please be properly prepared and approved to avoid any embarrassment.
7. Single Guy Rules: Of course this regatta is not a "swing club" but the rules are very similar. There is lots of good information on proper etiquette for single guys to follow at a swing club titled, "The most important piece of information that any single man in the swinging lifestyle can read" so please read this detailed page too.
8. Keep Your Reservation: Remember that a limited number of single sailors will be invited to each event. That means, if you've been selected and approved for invitation to the party, then have the courtesy to SHOW UP, as we could have given what is a very limited invitation for Single Sailors to someone else more responsible than you. Remember that we do like having some Single Sailors, we just can't be overrun with them so we have to limit those invitations. So if you have been approved to join us, and something comes up where you cannot attend, then email us immediately and let us know so we can give your spot to someone else, and we'll hope to see you at a future event. If you simply don't show up without canceling your reservation, then don't expect to be approved for future parties.
9. You must also read and be familiar with all pages of this website: We never want any surprises and you shouldn't either. So to be properly prepared and to be the best guest ever, be sure to read every page of this website so you know exactly how things are run and what to expect.
10. Making The BEST 1st Impression: If you want to make the best first impression, (and who doesn't) then arriving at the regatta with bags of ice to donate to the coolers of other couples is always a welcome gesture. You can never bring too much ice. If you've got a big cooler, then grab a dozen bags of ice and bring it with you. Nothing says, "welcome aboard" like being able to introduce yourself to couples on their boats by saying, "Hi, I'm John and I brought some extra ice if you need some". Even just bringing one or two bags lets you introduce yourself to one or two couples by offering them some ice.
11. Wolf In Sheep's Clothes: If you are a Single Sailor, then be open and honest with us and tell us you're a single guy. Do not tell us you're a couple, and then arrive at the regatta telling us a story about how "your date unexpectedly couldn't make" it so you came without her, because NOW you are no longer a couple, instead you will be viewed a Wolf In Sheep's Clothes trying to trick your way into our party so you will be turned away. If your status changes and you are a Single Sailor, then simply tell us that, and go through the approval process that ALL Single Sailors are required to go through outlined on this page.
Remember, if these rules seem too strict, you can avoid most of them by simply bringing a date. Bring a sexy sailor with you and then as a couple, you will be VERY thankful that we have these rules for the Single Sailors.