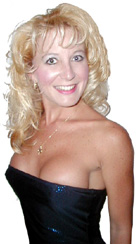 How did these boating parties get started?
That's a very good question. Hi I'm Barbi. In 2005 we got involved in developing TropicalParadiseCondo.com a property developed by BellaVitaResorts.com as a clothing-optional, adults-only lifestylel-friendly, recreational playground. As a way of helping to spread the word about TropicalParadiseCondo.com and BellaVitaResorts.com we created BellaVitaBoatClub.com This was a way to reach other lifestylers that didn't go to swing clubs, and also a way to make the "Bella Vita / Tropical Paradise" names familiar with everyoen while this projectis under construction. So we decided to combine the promotions of the Tropical Paradise lifestyle resort, with our love of the outdoors and boating. It all just seemed so natural.
We were members of all the local swing clubs in town and had friends at all of them, but many of our friends, never met our other friends because they all just went to their one favorite club exclusively and never ventured to the other clubs so never met other people.
We also know lots of really fun lifestylers that don't like going to clubs at all. They might go to house parties but nightclubs just aren't their "thing".
That's what makes this so great! Because it no longer matters what swing club you are a member of, or what swing club is your favorite or if you even go to any swing clubs or if you've never even been to a swing cub in your life. This is not about "The Clubs" or "The Conventions". This is about fun people getting together for a great day of boating & fun in the sun, even if you don't have a boat.
We all live in Florida and are so very fortunate to have so many top quality swing clubs right here in South Florida. But so often, we don't get to meet all the fun lifestyle people that live right here in our own state because we don't go to the same swing club they do.
WELL THAT ONE WEEKEND CHANGED EVERYTHING!
That's Right. It doesn't matter what swing club you go to, or what is your favorite swing club because this party is NOT about "The Clubs" This party is about the "Swingers" and this party is happening when all the swing clubs are closed so you don't have to try to decide what club to go to, <laugh> .
And at every regatta raft-up party we give away TropicalParadiseCondo.com and BellaVitaResorts.com party favors, T-Shirts, tank tops, koozies, DVDs, hats, bikinis, fanny pack party survival kits, beach bags and all sorts of custom logo wear.
So years ago for the first time ever, all of South Florida's Finest Swing Club Members united for the wildest party ever. Temptation Island Boating Regatta & Sandbar BBQ Party With Fun In The Sun, Sand & Surf! Everyone is welcome, even if you don't have a boat because we usually have tons of boaters that want you to join them on their boat for the ride to Temptation Island!
And the rest is "history"!

We've had several regattas over the years and they get better and better and wilder and wilder with each one. And this year is expected to be our biggest and best year yet with trips to Elliott Key, Bimini in the Bahamas, Holiday Isles in Islamorada south of Key Largo, and of course raft up parties at Temptation Island. Don't be the only one not coming to the wildest events ever...
Don't miss out on meeting all the fun swingers from all the other local clubs...
Don't Miss The Boat!
Check the schedule and mark your calendar now so you can plan around these events.