Wow, Another Great Hot & SeXXXy Party Weekend!


Temptation Island was a Wicked, Wild Hot & SeXXXY Party Place!!!

"Thank YOU" to all of you Hot & SeXXXy BellaVita Babes for an Incredible Weekend.



The weekend started early on Friday

with 10 boats

arriving in the afternoon to Kick off the Party Weekend, and they all got FREE official Bella Vita Lifeguard T-Shirts for arriving early on Friday! I think we'll do that again next month,

so make plans now to arrive on Friday and get one of these Bella Vita Lifeguard shirts for FREE!

We even had Newbies

HotAzzJada

&

FunFunFun1974

being the "First" to arrive at Temptation Island, talk about "Eager Beavers", lol.

It was great meeting all of you.

and what a great addition you make to our sexy little BellaVita family of friends.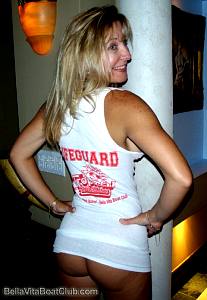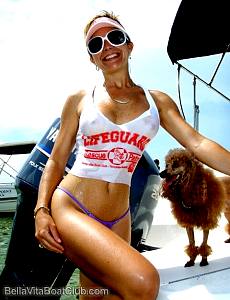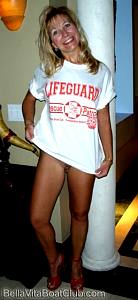 The party started right away on Friday Night with a very Hot "Happy Hour".


It was really a fun night with what has become known as "Blow-Job Friday" or "Felatio Friday", but whichever name you call it... that's sure what it was! And then

BellaVitaBoy

brought out his DJ equipment

& I never saw so many Hot & SeXXXy Bella Vita Babes on the
"BarbieGirl's"
Bar, dancing only like they could, No words can describe it, you had to see it to believe it. And
Zinfull
.... WOW!!!!!

SeXXXy HOT moves on the
"BarbieGirl's"
pole.

You are going to have to show me how you do IT!!!!!
What a GREAT Way to start a Party Weekend!!!



Saturday Afternoon brought

a very special

"Congratulations"

toast

for two very special long time BellaVita Members BadNBlonde's Beautiful NEW Boat!!! We wish ya'll only the "Best Fun-Filled Days" & "Safe Cruises" ahead. ENJOY!!!


Saturday also brought out the Prize Wheel

... All you had to do was spin the wheel and everyone won a prize!!! You name it, you won it. Congratulations go out to our BIG Prize Winners...... for winning the Full Convention Package to

"Splash" next weekend

at

www.DixieDoesFlorida.com

in Orlando. ENJOY!!! Other Prizes included

StartBrite Boat Cleaning products sponsored by BareBoat2007, BellaVita Boat Club shirts & Party Survival Kits, Party Packages of Lubes, drink coupons to Hot & Sexy Strip Clubs in the area, boat tools, sunglassess, hats, shot glasses, flip flops, and SeXXXy Tatoos at

www.TataToos.com

, And be sure to tell them that you are a member of the BellaVitaBoatClub to get your special club member discount, saving you 25% on your order. Just enter "BellaVita" at checkout to receive your discount on your
Ta-Ta-toos!
Thank You

www.DixieDoesFlorida.com

,

www.TataToos.com

, & BareBoat2007

Saturday Night turned into an extension of Friday night,

, BellaVitaBoy REALLY put his DJ sound system to the test as he began the music and pushed it to the limit, the
"Barbie Girl's"
Bar filled with the SeXXXy & Hot Bella Vita Babes and the Party was in full "SWING"

AND

....
Did I mention the
"Pants on the Ground"

TOO HOT & SeXXXY!!! ALL of you BellaVita Babes, out did yourselves with the Over the Top SeXXXy outfits!!!

What a PERFECT way to spend a Weekend,
Seeing old friends and making great new ones!

"Thank You" to all of our BellaVita "Grill Masters" for all your delicious dishes.
Thank you ...

Olvidelo for ALL the Super "Finger Licking Good" BarBQue Ribs you grilled for the ENTIRE Raft Up Saturday night so very generous, Colleen for your delicious Breakfast Burritos which are now mine & BellaVitaBoy's NEW favorite, WOW you out did yourself, to SoulMates for their fantastic Fish & Shrimp I do love getting new recipes from you, Mermaid

for your delicious Chicken Ceasar Wraps and all your help over the weekend,

GMDive, MagicFingers, HotAzzJada

&

FunFunFun1974

for all those super sweet danish, strudels, breakfast breads & muffins,

BadNBlonde for my favorite wontons & your snack trays that kept appearing, and Nauti Hobby for bringing out your frozen margarita machine & making frozen drinks for everyone, LOVED them! WOW!!! So many of you brought over trays & treats all weekend, I could not keep up with who brought what, the food just kept "appearing" and "THANK YOU"

to all of you for your generousity. And a Big "Hats Off"

to My BellaVitaBoy's Sunday morning Clothing-Optional Jimmy Buffet Breakfast Buffet, of his Delicious Breakfast Egg Casserole, with all the fixings, fruits, danish, and so much more!!!


And A Special "Thank You" to Nauti Hobby

for my Great Cordless Clipper/Razor ..... , Or as Bella Vita Boy calls it, my "Beaver Cleaver" LOL... It is GREAT!!! And I Love IT!!! You two are spoiling me..."Thank You

"



I must also say "Thank You" to my guests this weekend,

ClubEaster who we enjoyed so much being onboard the "Barbie Girl" and hope that they can join us again real soon.

Also, since the Bella Vita Boat Club is a non-profit club that is ONLY able to operate solely by the generous donations and contributions of its thoughtful members, we are always so appreciative of everyone that donates so generously. An EXTRA Special

"Thank You"

goes to IrieMon

,

Olvidelo

, and

SoulMates6, who went above and beyond by donating more than the suggested amount this month, and

"Thank You"

to HotAzzJada who made a donation even though it was their first party! And a VERY Special "Thank You" to GMDive
and
ClubEaster who made a VERY SUPER-DUPER Generous donation of $100.00 or more to help support the club!!

Thank you EVERYONE! Your generosity is GREATLY Appreciated!