And in addition to all those benefits, it also created such a nice cozy social atmosphere. Be sure to check out the photos from this month's party to see what I mean. It was really great and very different... I LOVED IT!!!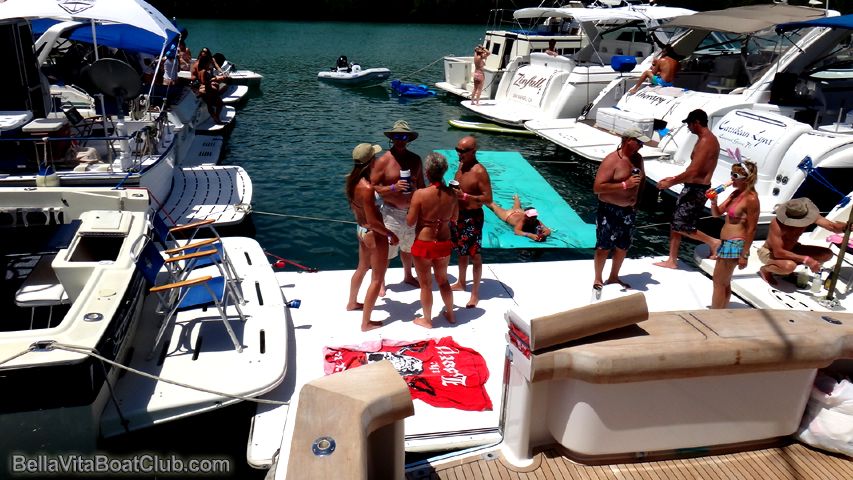 The weekend brought
Great People, Great Food, and Great Fun!!!

Even though the Winds blew Fiday & Saturday nights

outside our special little protected area, the wind was calm where we were and

BellaVitaBoy

had the music

so HOT that the "Barbie Girl's" Bar was on FIRE with all the SeXXXy HOT Bella Vita Babes. WOW!!! You had to See It to Believe It!!! The Party went until "Sun Up" onboard

Tim&Karina,

"Thank You" for the Tequila Shots!!! Did I say till "Sun Up", wow

Tequila does make her clothes fall off, just like the song says!!!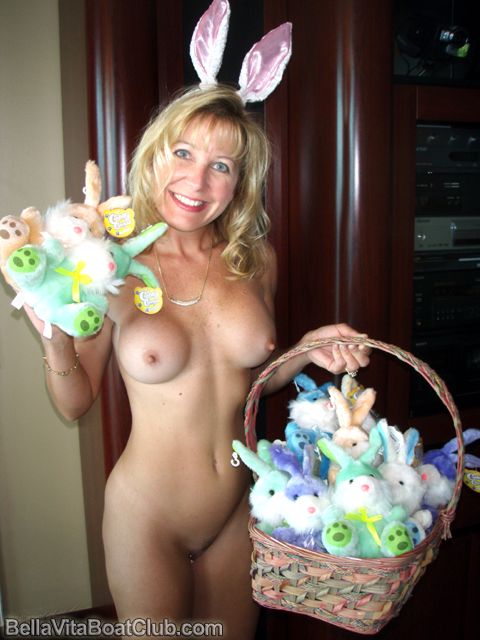 The weekend also brought plenty of

Easter Surprises & Prizes,

WePlayInTN

and I passed out little stuffed bunny rabbits to everyone like you see pictured here. And what would Easter be without a Very Hot & Sexy Bunny

delivering SeXy Fun prize packed Easter Baskets to everyone's boat deck. Thank You

Lovers1 & ILikeWives

for your generous baskets and for being our "Secret Bunny".

Celebrations for WePlayInTN and a "very special guest" aboard SeaLife842

brought SeXXXy chair & pole dances to the weekend.

"Enricke Fabuloso"

also made a Special Appearance which made all the SeXXXy Bella Vita Babes go CRAZY!!! Thank ya'll for sharing your Birthdays with the Bella Vita Boat Club.

Saturday brought out the sun, and the Prize Wheel

... All you had to do was spin the wheel and everyone won a prize!!! Congratulations go out to our BIG Prize Winners...... for winning the Full Convention Package to
"Splash"in May at
www.DixieDoesFlorida.com
in Orlando. ENJOY!!!
www.TrapezeClub.com
sponsored T-shirts and Nightly Door Passes, so be sure to tell
Trapeze
that BellaVitaBoatClub sent you. Other prizes included BlowJob Bibbs & Big Dick Sippee Cups sponsored by

WePlayInTN,

StartBrite Boat Cleaning products sponsored by BareBoat2007, BellaVita Boat Club shirts & Party Survival Kits, Party Packages of Lubes, drink coupons to Hot & Sexy Strip Clubs in the area, boat tools, sunglassess, hats, and SeXXXy Tatoos at
www.TataToos.com
, And be sure to tell them that you are a member of the BellaVitaBoatClub to get your special club member discount, saving you 25% on your order. Just enter "BellaVita" at checkout to receive your discount on your Ta-Ta-toos! you name it, you won it.
Thank You

www.DixieDoesFlorida.com

,
www.TrapezeClub.com
,

www.TataToos.com

,
WePlayInTN
,

& BareBoat2007


I want to say "Thank You"

to my guests this weekend,

WePlayInTN

, for providing "the Bar" luved the Rum Punch, for my BIG Pink Dick Sippee Cup and my Perfect Head water bottle, they both make me smile & will think of you both each and everytime I use them, plus Thank You for my BlowJob Bibb, luv i!

BellaVitaBoy

and I both enjoyed ya'll so much being onboard the "Barbie Girl" and hope that you can join us again real soon.

A Special "Thank You"

to

Colleen

for my "Congrats" card and book on making Boat Captain,

PlayingHooky

for my "Wine & Friends" apron and for all the help in my galley this weekend, and to

Relax

for my lovely bouquet of flowers. So very thoughtful of all of you.

Also, "Thank You" to all of our BellaVita "Grill Masters"

this weekend who shared with everyone their delicious dishes, to Bnaked4 for your delicious chocolate cake,
Colleen
for our favorite chicken enchiladas & layered bake,
Relax
for the super sweet Panty Dropper Punch, delicious pizzas & everyone's favorite Crab Dip,
SoulMates
for a very tasty & spicy Fish & Shrimp and also super Peach Frozen drinks, and
SeaLife842
for your very talented grilling skills on Sunday with the Turkey Burgers and everyone's dishes on the grill . And to My
BellaVitaBoy's
Sunday morning Clothing-Optional Jimmy Buffet Breakfast Buffet, of his Delicious Breakfast Burrito Omellets, custom made to order with all the fixings, fruits, danish, and so much more!!!

All of YOU can cook on my Grill anytime,


Since, the Bella Vita Boat Club is a non-profit club
that is ONLY able to operate solely by the generous donations and contributions of its thoughtful members, we are always so appreciative of everyone that donates so generously. And an EXTRA Special "Thank You" goes to Feli, Mermaid, PlayingHooky, Relax, and WePlayInTN who went above and beyond by donating more than the suggested amount this month. THANK YOU!!!


Your generosity is GREATLY Appreciated!

And never forget.... Rain or shine,

it's party time"!