Everyone always contributes to making these parties so much fun for everyone, but there are always a few extra special stand outs that really go above and beyond.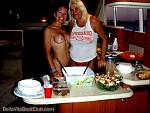 SunnFunFL1 we knew we missed you for these last few months, but we forgot how much we missed you until you came this month. Sandy & Mark drive 8 hours round trip from Daytona Beach to attend these parties and she always brings enough food to feed an army, (or a Bella Vita Regatta) and this month was no different. Saturday morning she made her special biscuits & gravy breakfast that isn't your ordinary "biscuits and gravy". Whatever she does to them is out of this world, and she fed the entire regatta. And Saturday night she made super tasty hors d'oeuvres and appetizer treats that she and Mark took on trays and walked to all the different boats serving everyone. Then she made her special Teriyaki steak and with the help of Smokin_Man, had it grilled to perfection with her super special spinach salad and all the side dishes you could imagine as she once again fed the entire regatta a feast fit for a king.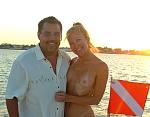 CaptainRuss was a first timer with his fabulous 48' luxury yacht and he sure knows how to fit right in an make an entrance. He hosted SunnFunFL1 and SexeeCpl on his boat and upon his arrival he announces in his Southern accent from Atlanta Georgia, "Okay Ya'll I'm going to turn up the dance music and put a porno movie on the big screen TV while Sandy makes snacks for everyone and ya'll just make yourself at home"! Truly a sweetheart of a guy, opening his boat up to everyone and hosting two couples on his boat for the entire weekend. A great new addition to the party and after driving 20 hours round trip from Atlanta by car, and 6 hours round trip by boat to attend the regatta, we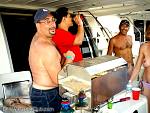 hope to see him return many times.

Smokin_Man was grilling away cooking for everyone on Saturday night, and on Sunday morning he cooked up 50 of his own special style of egg-McMuffin, and fed everyone at the regatta breakfast.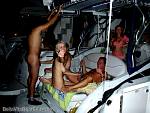 Sebastian100 gets the "revolving door" award!!! He hosted more couples and single girls on his beautiful yacht than anyone ever at any previous regatta. If a couple could only come for the day, the shuttle boat would drop them off at the marina and pick up another couple and a few more single girls and bring them to his boat. Then even Sunday morning when some people are starting to leave, he's still riding with the limo boat to the marina dropping off couples and picking up new replacements. A beautiful party boat, a wonderful host and a really great guy!

GMDive was a first timer on their luxury 52' Fairlane. On Sunday afternoon, they broke out their grill and cooked spicy chicken wings and hamburgers for everyone at the regatta, while WildThingXXX and several of us brought other snacks and side dishes and set up a huge lunch buffet on their aft deck.

Special thanks also go to:

Jamaican007 Thanks for his wonderful Jamaican jerk chicken Saturday night that he shared with everyone.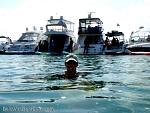 WPBDiver Thank you for being a great limo shuttle boat helping couples without boats get to and from the party.


Crew4Jets Thank you for all your limo shuttle boat help, and also for helping get all the shore lines after the party.

And we are always so appreciative of everyone that helps keep these parties going by helping to defray some of the costs with the cheerful giving of their donations each month. Special thanks to DoctorsOrders for their $100 donation and Special thanks to GMDive for their donation even though it was their first party. Everyone's donations always help to keep these parties going, and special supporters like you are especially appreciated. THANK YOU!!! We truly appreciate it all!



We enjoyed the bonfires on the island both Friday & Saturday nights and we had lots of new fun faces join us this weekend,

and we welcome all the newbies and hope everyone comes back again for next month's party.

It was just a totally perfect weekend.